High performance hosting platforms for small and large projects
are you looking for performance and high availability?
A website that is slow or not accessible is not only a site that loses in number of visitors and rankings in the search engines, but also a site that loses in credibility and notoriety.
If you too, the high availability of your website is vital for your business, we have the right solution for you.
We design and implement highly available platforms based on:
Load
balancers
Caching
solutions
Web application firewall
Database
clusters
Geographical distribution
Are you looking for a reliable and efficient hosting solution for your website or business application?
Our experts are at your disposal to advise you and support you in your project.
Platforms that meet the needs of websites of all sizes
Flexibility
Our platforms can evolve to adapt to changing website load and customer needs
Supervision
Our platforms are monitored by 24/7 monitoring systems that alert our technical support in the event of a problem.
Performance
We optimize the different system configurations to speed up website rendering
24/7 Technical assistance
An available and reactive team is at your disposal. Different SLAs are available as needed.
Website security
We take the security of your website as seriously as it's performance. We secure your website through different levels.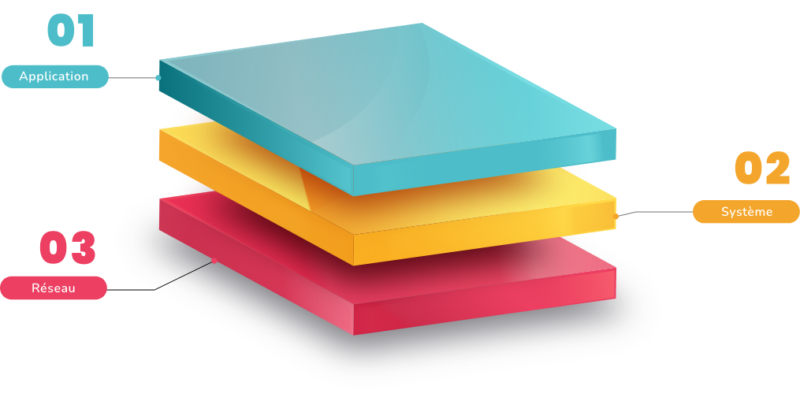 We implement security policies adapted to each context: e-commerce sites, media portals, professional applications,etc. We detect vulnerabilities and we neutralize DDoS attacks.
We also provide through our subsidiary OXABOX a complete range of SSL certificates. These certificates guarantee
Trust: The cadena symbol in the address bar or the green bar in the case of an EV certificate, gives the visitor confidence in your website.

Authenticity: An SSL certificate assures your visitors that you really are who you say you are. This is all the more important when you conduct business transactions on your website.

Data integrity: SSL certificates are used to encrypt data exchanges between your visitors and your server. Thus, your website is secure against the interception of confidential data.

SEO Google favors websites secured with an SSL certificate and gives them a higher score than other websites.

Organization Validation (OV) SSL certificates reinforce your credibility by confirming the authenticity of your business.

An ideal solution for Microsoft mail servers, communications servers and QA testing environments.

These certificates offer the highest degree of authentication and display the green bar in the browser when visiting your website.
Contact us for more information on our hosting platforms.
Our IT consultants will be happy to assist and advise you on the best practices of security strategy for your web project.
Call us to discuss the best solution for your business.
Contact us
Our team will be happy to understand your business goals and process with your website or marketing project