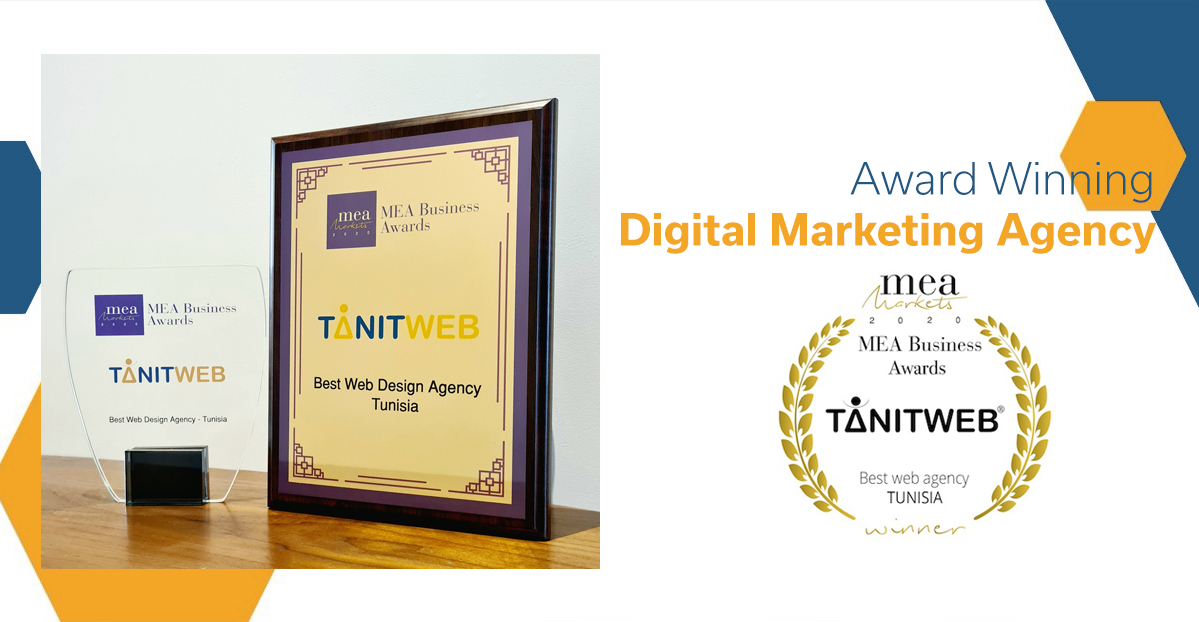 > Cliquez ici pour la version Française
The British magazine MEA Markets awarded the "MEA Business Awards 2020" to TANIT WEB  selected as best web agency in Africa and the Middle East. This prize is awarded each year to the most dynamic players in their sector of activity in the Middle East and Africa region.
Firstly, Ms. Katherine Benton, Coordinator of MEA Markets, explained that the selection process of the MEA Business Awards 2020 involves a rigorous work of internal verification by a team of specialists. An extensive process of research and judgment is motivated by merit and centered on a thorough assessment of the skills and services offered. Most importantly, the winners are not determined by the popularity of the votes, but by their contributions to their industry.
Above all, the choice of TANIT WEB was determined on the basis of its dedication to customer service and its commitment to promoting excellence.
Ms. Benton said, «Sincere congratulations to all who have been selected for the 2020 edition of this program. Although it has been a difficult year, everyone who has been recognized has risen to the challenge of succeeding despite the economic conditions».
In addition, Mr. Hatem Abdennadher, Founder of the TANIT WEB group spoke at the MEA Business Awards 2020: «This award is recognition of 14 years of continuous work to become the best Web agency in Africa and Middle East. I would like to thank all the members of the TANIT WEB team for their dedication and the quality of their achievements. My words will never be enough to praise their precious contribution to winning this award».Mr. Hassene Ben Hamouda, Managing Director of TANIT WEB, moreover said: «I would like to offer my most sincere thanks to our customers and partners who have always supported us. Thank you for your trust ! I would also like to thank all my staff who made this success possible. This prize is for you!».
TANIT WEB is a global digital agency created in 2007. Innovative and distinguished, it has established itself as a major player in the fields of Web and Mobile development, digital communication and Cloud hosting solutions.
Rich in an entrepreneurial culture, TANIT WEB pursues its development and growth strategy by investing in technological innovation and strengthening its international coverage through its offices in London and Tunis.
TANIT WEB offers its customers tailor-made support and assistance in setting up their digital communication strategies. In conclusion, its success is based on a continuous pursuit of excellence, constant technological monitoring and perfect synergy between the various subsidiaries of the group.